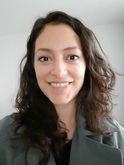 Nathalie
Giroud
, Prof. Dr.
Tel.: +41 44 634 62 43
Raumbezeichnung: AFL-F-109
Nathalie Giroud is a neuropsychologist and SNF-PRIMA assistant professor at the University of Zurich. She heads the Computational Neuroscience of Speech & Hearing research group where she and her team study the neural and cognitive underpinnings of speech and language with a focus on clinical populations who have difficulties to process and understand spoken language (e.g., due to hearing loss, aging, dementia). One goal of her research is to develop neurophysiology-based diagnostic and rehabilitation strategies for individuals with speech processing difficulties (e.g., neurofeedback protocols, virtual reality trainings to induce more naturalistic settings, lip reading trainings for older hearing impaired) and to detect individuals at-risk of cognitive decline early on using machine learning approaches.
Nathalie Giroud received her PhD in cognitive neuroscience and psychology at the University of Zurich in 2016. She held postdoctoral positions within the University of Zurich's Research Priority Program "Dynamics of Healthy Aging", within the Canadian Consortium on Neurodegeneration in Aging and at Concordia University in Montréal and subsequently at the Phonetics and Speech Sciences Group at the University of Zurich. In 2020 she obtained a Swiss National Science Foundation PRIMA-grant allowing her to study the neural underpinnings of the hearing-cognition association with a team at the University of Zurich.
Nathalie Giroud is also a faculty member of the international Max Planck Research School on "The Life Course: Evolutionary and Ontogenetic Dynamics" and the Neuroscience Center Zurich (ZNZ) and has recently joined the Editorial Board of the open-access peer-review journal Aging Brain. She has won the Vontobel Award for Research on Age(ing) in 2017. For the term 2021, she held a Global Future Council Fellowship in the Council on Healthy Ageing and Longevity of the World Economic Forum (WEF). She is currently the co-director of the competence center Language & Medicine at the University of Zurich.